How much does it cost me to donate?
There is no cost to donors when donating a whole deer and no charge on the donated portion of livestock.
Where can I donate?
We partner with 85 meat processors statewide. Click here to find a participating processor near you!
Where does my donation go?
All donated meat will go back into the community where it was donated.
---
This organization uses local resources, local people, and local services to meet a need and has provided over 6.1 million meals served to date.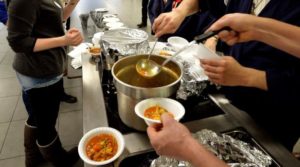 We partner with 85 meat processors statewide (who reduce their rates for us) and approximately 500 hunger relief agencies (who aid us in tracking and distribution) allowing us to give 250,000 pounds of meat annually in Indiana.   

 

The philanthropic outreach from this program includes our board members, volunteers, meat processing shops, hunters and farmers, and community agencies, organizations, and residents – that donate their time, skills, and money to help provide this nutritious meat to food banks and hunger relief agencies in their communities. 

Protein is an important component of every cell in the body. Your body uses protein to build and repair tissue, make enzymes, hormones, and other body chemicals. Protein is an important building block of bones, muscles, cartilage, skin, and blood. It also aids in boosting metabolism and lowering blood pressure. Unlike fat and carbohydrates, the body does not store protein, and therefore has no reserve to draw on when it needs a new supply.